Home
Welcome to the "Bee Patches" home page. "Bee Patches" is an initiative of the non-profit North Coast Resource Conservation & Development Council. We work for pollinator habitat conservation to (1) plant areas to support pollinator habitat, (2) educate and conduct outreach on the importance of these small wildlife species, and (3) find partnering organizations doing similar work to develop joint projects.
But what is a "Bee Patch"? A Bee Patch is simply a place for pollinators to find healthy food, water, and nesting areas:
Food is an area with blooming plants for bees to come and eat or "forage." Plant an area that contains:

Blossoms in Spring, Summer, Fall & Winter

Favorite flowers like lavender, manzanita, etc.

No pesticides

Nearby water like a pond, stream, livestock tank, etc

Finally, provide a home for bees--undisturbed ground or dead trees for native bee nesting. and live trees for wild honeybees.
It's easy to make a patch! Start with a 3x3 square foot area of the same plant to help pollinators find your patch, then grow it larger and larger over time using plants that bloom throughout the year! Detailed instructions, including plant lists, can be found by clicking Bee Patches above (or here).
This site is optimized to display best with Google Chrome and Safari.
(Interested in other Council activities? Check out www.wormwizards.org, www.raincatchers.info, www.cultivatingcommerce.org and our main page www.ncrcanddc.org)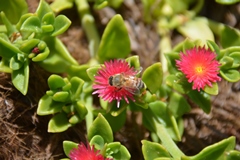 The North Coast Resource Conservation & Development Council is a non-profit and non-governmental organization which was formed and officially incorporated as a 501 (c) (3) charitable organization in 2002 to advance the conservation of natural and agricultural resources within Marin, Sonoma, Mendocino, and Lake Counties in Northern California. discussed in more detail on our History page: History
More information also can be found at our general non-program webpage: www.ncrcanddc.org
Our programs include::
Water Conservation projects through rainwater collection, storage and re-use (visit www.raincatchers.info)

Pollinator habitat protection through educational workshops, "Bee Patches" plantings, "Bee Buddies" school programs, and more (this website)

Vermicomposting and recycling in schools in our Worm Wizards of Waste program (visit wormwizards.org for info)

Support for local food production, including support for small farmers

and other sustainable agriculture programs.(visit cultivatingcommerce.org for info)

In 2017, we are focusing our pollinator protection programs on expanding our "Bee Patches" plantings.
We work with ALL youth groups -- our current Bee Patches program has been working with Girl Scouts, and we seek to expand this program to scouts throughout our region. We are also interested in working with other youth groups in the Bee Patches plantings--Boy Scouts, FFA, 4H, and others can be part of this exciting environmental education and action program. Contact us at This email address is being protected from spambots. You need JavaScript enabled to view it. for more information.