FILM NIGHT ON THE PASSION OF POLLINATORS!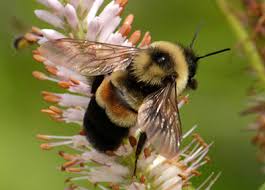 The NCRC&DC and Day's Edge Productions present the award-winning documentary
A Ghost in the Making: Searching for the Rusty Patched Bumble Bee
This film recounts a personal search to find the endangered rusty-patched bumble bee. Lisa Moore, Editor-in-Chief, National Wildlife Magazine, says: "This elegant film delivers wonder in every frame. Blending expert science with the exuberance of a bug-loving kid, Bolt takes us on a journey of discovery." Film maker Clay Bolt will join us via Skype to discuss the film, answer questions, and guide us on his personal journey.
In addition to the film, our non-profit conservation organization will be discussing pollinators in general, and steps you can take to personally make a difference in helping these important small wildlife recover and thrive.
Our host for the evening is Joan Weir, a local bee keeper and volunteer conservationist in our "Bee Patches" habitat planting program, who will introduce this award-winning film, Clay Bolt, and our guest speakers:
Dr. Nathan Rank, Professor of Biology at Sonoma State University teaching biological diversity, evolution and genetics, entomology, and biological statistic

Thea Vierling of the Sonoma County Bee Keepers Association (SCBA), who will explain the biology of honeybees, and the role of the SCBA.
We will also be offering mead tastings. Mead is honey wine, an alcoholic beverage made by fermenting honey. Popcorn, wine, beer, appetizers, and desserts will also be available.
7:00 - 9:00 PM
September 20, 2019
150 Todd Road
Santa Rosa, CA
Ample parking is available at 150 Todd Road, but we encourage you to carpool and lessen your carbon footprint. Ticket sales benefit our conservation efforts. Tickets are $10 for adults, but as your ticket purchase benefits pollinators, please consider paying at the highest end of the sliding scale ($10-$100) you can afford! Tickets can be purchased through Brown Paper Tickets Movie Night Ghost Bee. We anticipate this to be a popular film, and only 60 tickets will be sold. If unsold tickets remain, then any available tickets may be purchased at the door on the night of the film screening. We hope to see you there!
More Information:
Clay Bolt is one of the producers and writer for the film. He is also a natural history and conservation photographer, specializes in macro photography with an emphasis on invertebrates, reptiles and amphibians. He's an Associate Fellow in the International League of Conservation Photographers (iLCP), president-elect of the North American Nature Photography Association (NANPA), and co-founder (2009) of Meet Your Neighbours. His current focus is on North America's native bees and the important roles they play in our lives. In 2015, Clay moved to Bozeman, Montana to take on the position of communications lead for WWF's Northern Great Plains Program.