DID YOU MISS FILM NIGHT ON THE PASSION OF POLLINATORS?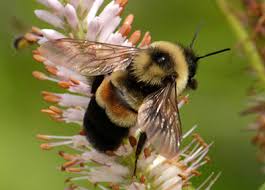 The NCRC&DC and Day's Edge Productions presented the award-winning documentary
A Ghost in the Making: Searching for the Rusty Patched Bumble Bee
This film was shown on September 20, 2019, and recounted a personal search to find the endangered rusty-patched bumble bee. Lisa Moore, Editor-in-Chief, National Wildlife Magazine, says: "This elegant film delivers wonder in every frame. Blending expert science with the exuberance of a bug-loving kid, Bolt takes us on a journey of discovery." If you are interested in a re-showing of this film, just contact us at This email address is being protected from spambots. You need JavaScript enabled to view it..

More Information:
Clay Bolt is one of the producers and writer for the film. He is also a natural history and conservation photographer, specializes in macro photography with an emphasis on invertebrates, reptiles and amphibians. He's an Associate Fellow in the International League of Conservation Photographers (iLCP), president-elect of the North American Nature Photography Association (NANPA), and co-founder (2009) of Meet Your Neighbours. His current focus is on North America's native bees and the important roles they play in our lives. In 2015, Clay moved to Bozeman, Montana to take on the position of communications lead for WWF's Northern Great Plains Program.
boohoo , Womens & Mens Clothes , Shop Online Fashion | Nike Dunk Low Pro SB 304292 - 102 White Black Trail End Brown Sneakers – Ietp - nike air max running neutral ride shoes for kids