Home
Welcome to the "Bee Patches" home page. "Bee Patches" is an initiative of the non-profit North Coast Resource Conservation & Development Council. We work for pollinator habitat conservation to (1) plant areas to support pollinator habitat, (2) educate and conduct outreach on the importance of these small wildlife species, and (3) find partnering organizations doing similar work to develop joint projects. In 2018, our patch plantings are targeting fire impacted areas.

But what is a "Bee Patch"? A Bee Patch is simply a place for pollinators to find healthy food, water, and nesting areas:
Food is an area with blooming plants for bees to come and eat or "forage." Plant an area that contains:

Blossoms in Spring, Summer, Fall & Winter

Favorite flowers like lavender, manzanita, etc.

No pesticides

Nearby water like a pond, stream, livestock tank, etc

Finally, provide a home for bees--undisturbed ground or dead trees for native bee nesting. and live trees for wild honeybees.
It's easy to make a patch! Start with a 3x3 square foot area of the same plant to help pollinators find your patch, then grow it larger and larger over time using plants that bloom throughout the year! Detailed instructions, including plant lists, can be found by clicking Bee Patches above (or here).
This site is optimized to display best with Google Chrome and Safari.
(Interested in other Council activities? Check out www.wormwizards.org, www.raincatchers.info, www.cultivatingcommerce.org and our main page www.ncrcanddc.org)
FILM NIGHT ON THE PASSION OF POLLINATORS!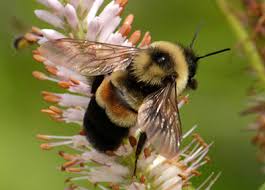 The NCRC&DC and Day's Edge Productions present the award-winning documentary
A Ghost in the Making: Searching for the Rusty Patched Bumble Bee
This film recounts a personal search to find the endangered rusty-patched bumble bee. Lisa Moore, Editor-in-Chief, National Wildlife Magazine, says: "This elegant film delivers wonder in every frame. Blending expert science with the exuberance of a bug-loving kid, Bolt takes us on a journey of discovery." Film maker Clay Bolt will join us via Skype to discuss the film, answer questions, and guide us on his personal journey.
In addition to the film, our non-profit conservation organization will be discussing pollinators in general, and steps you can take to personally make a difference in helping these important small wildlife recover and thrive.
Our host for the evening is Joan Weir, a local bee keeper and volunteer conservationist in our "Bee Patches" habitat planting program, who will introduce this award-winning film, Clay Bolt, and our guest speakers:
Dr. Nathan Rank, Professor of Biology at Sonoma State University teaching biological diversity, evolution and genetics, entomology, and biological statistic

Thea Vierling of the Sonoma County Bee Keepers Association (SCBA), who will explain the biology of honeybees, and the role of the SCBA.
We will also be offering mead tastings. Mead is honey wine, an alcoholic beverage made by fermenting honey. Popcorn, wine, beer, appetizers, and desserts will also be available.
7:00 - 9:00 PM
September 20, 2019
150 Todd Road
Santa Rosa, CA
Ample parking is available at 150 Todd Road, but we encourage you to carpool and lessen your carbon footprint. Ticket sales benefit our conservation efforts. Tickets are $10 for adults, but as your ticket purchase benefits pollinators, please consider paying at the highest end of the sliding scale ($10-$100) you can afford! Tickets can be purchased through Brown Paper Tickets Movie Night Ghost Bee. We anticipate this to be a popular film, and only 60 tickets will be sold. If unsold tickets remain, then any available tickets may be purchased at the door on the night of the film screening. We hope to see you there!
More Information:
Clay Bolt is one of the producers and writer for the film. He is also a natural history and conservation photographer, specializes in macro photography with an emphasis on invertebrates, reptiles and amphibians. He's an Associate Fellow in the International League of Conservation Photographers (iLCP), president-elect of the North American Nature Photography Association (NANPA), and co-founder (2009) of Meet Your Neighbours. His current focus is on North America's native bees and the important roles they play in our lives. In 2015, Clay moved to Bozeman, Montana to take on the position of communications lead for WWF's Northern Great Plains Program.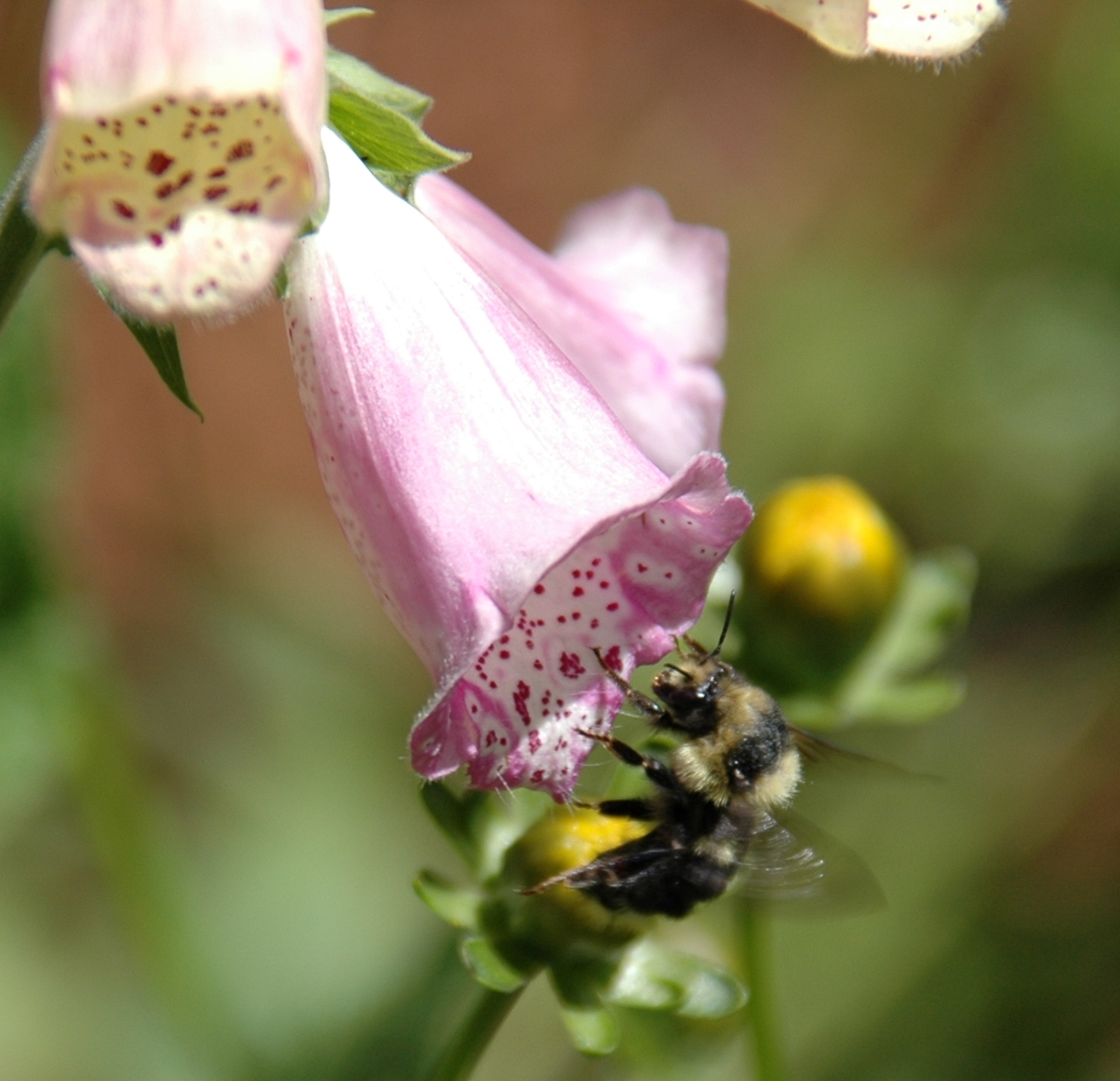 Did you know human life depends on these small wildlife? Bumble bees (shown at right) and other pollinators are responsible for one out of every three bites of our daily food. Pollinators are essential for our ecosystems and create sustainable natural resources by helping plants reproduce. These tiny wildlife travel across our environment carrying pollen on their bodies from one plant to another allowing the transfer of genetic material critical to the reproductive system of most flowering plants. Without these creatures, then countless fruits, vegetables, and nuts would cease to exist. More than half of the world's oils, fibers and raw materials could disappear. Without vegetative cover of our lands, erosion would increase, and dust storms would grow. Without this wondrous ecosystem service, the world as we know it would cease to exist, and today these precious wildlife are increasingly in jeopardy.
Yet you can help! You can help us spread the wonder of Bee Patches across the North Coast by donating to our Bee Patches and ecosystem sustainability programs today. Donate with a credit card through the secure PayPal system below (you do not need to have a PayPal account!) or send a check made payable to the NCRC&DC via US Mail to our address below.
NCRC&DC
P.O. Box 6417
Santa Rosa, CA 95406-0417
We thank you and the bees thank you!
Sponsors are businesses and community members who choose to provide our organization with funding, goods or services that we in turn use to make the Buzz Ball successful. While the funding portion of sponsorship needs no explanation, not everyone knows that sponsors providing goods or services are every bit as needed and welcome.
Cash Sponsorships – the NCRC&DC offers various levels of sponsorship ranging from $500 up to $5,000. Our sponsorship package benefits include onsite promotion, social media inclusion, website presence, and advertising based on the level of sponsorship.
In-Kind Sponsorships – The Buzz Ball is the main fundraising event benefiting the North Coast Resource Conservation & Development Council's environmental protection and community support programs. In particular, the fundraiser supports our youth environmental education and ACTION programs supporting pollinator habitat planting, water conservation, and waste minimization and composting. We help build the environmental leaders of tomorrow! Through revenues generated, we look to community partners to support the Buzz Ball while also reaching a desirable consumer demographic.
Acknowledgements for sponsorship are provided within the Auction Catalog, on our website and social media, and onsite at the event. Promotion is based on level of sponsorship. For more details, click HERE. You may also download and fill out a sponsorship form.
For more information about becoming a sponsor and supporting Buzz Ball, contact Oona Heacock 707-293-8656, This email address is being protected from spambots. You need JavaScript enabled to view it.